Call for Posters :
Kindly find the attached form, fill it out and submit it to acdi2018@gmail.com.
Kindly note the "Instructions to Authors".
The African Society of Dentistry and Implantology thanks you for your collaboration and your precious contribution and will contact you once the Scientific Committee of the African Congress of Dentistry 2018 makes their decisions.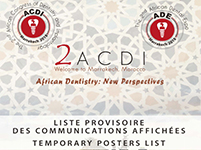 Click here to download The form.